Kidnapping Claims as Raila's Aide Caught Up in Bitter Baby Custody
City lawyer Silas Jakakimba's parental woes came into play after the battle for his son's custody took a dramatic and publicized turn on Saturday, April 9.
In a statement seen by Kenyans.co.ke, Jakakimba noted a group of women had allegedly kidnapped his son from his Nairobi residence while he was out of town.
Jakakimba, who is also a long-serving aide to the Azimio la Umoja Presidential flagbearer Raila Odinga, affirmed that he was the rightful custodian of the child.
Azimio la Umoja Presidential flagbearer, Raila Odinga (centre), poses for a photo alongside lawyers from SES Law Advocates LLP in June 2020.
Twitter
Silas Jakakimba
He instructed his lawyer to treat the matter with the utmost respect for his son's sake. Jakakimba noted that the incident brought into play the bitter child custody woes and that such a matter should not affect an innocent child.
Jakakimba added that he had to cut short his travel in Kisumu county in order to take his son back as part of his custodial rights.
"I have authorized and mandated my advocate to handle and manage that bit in a respectful manner that guarantees my son's safety, protection – so it becomes both an encouragement on the one hand and, a learning window to many out there.
"Meanwhile, while out of town earlier today, a group of women kidnapped my son from his playing ground at my Nairobi residence. This matter, currently with the police, remains sensitive because a minor has been dragged into it.
"I've just landed back from a family commitment I'd to cut shot – in Kisumu, to ensure I personally pick him back and restore him to his continued legal and lawful custody within my space," he noted.
The incident brings into play the issue of child custody between parents – that has been the talk of town in the recent past.
This is after the High Court in Nakuru ruled that men could have the custody of children below nine years.
Justice Joel Ngugi noted that there should be no reason to restrict legal custody to only female parents – unless in a situation where one of them is deemed unfit or unsuitable to take up the role.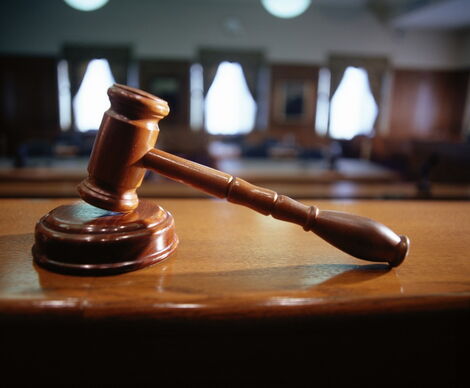 Undated file image of a gavel on the bench in the courtroom
Kenyans.co.ke
arrest