Ex-Spouse Blasted for Asking Deserted Stepmom To Pay Youngster Assist: 'Nerve'
A mom has been criticized online after she requested that her child's stepmom pay the child support after the father abandoned her.
The woman shared in a popular Reddit post that her husband walked out on the family just over a month ago. Together, they had two daughters while he also had a daughter from a previous marriage, although there was no formal custody arrangement, they would often look after her every other weekend. The husband would also pay his ex-wife child support at the start of every month.
According to the wife, he cited being unable to "hack" being a father anymore as his reason for leaving and even changed his number and blocked her on all social media after leaving, making it almost impossible to make contact.
"I've been a stay at home mom since our eldest was born, got my degree and we talked about me going back to the workforce once she entered kindergarten this year in the fall, but it was nothing set in stone. My husband literally gave me an allowance every week to buy groceries, pay bills, diapers, anything the kids needed. I would always stash a little bit away, but he definitely was the breadwinner in our relationship," she wrote.
Stock image of a pacifier and cash. A mom has gained attention online after sharing her child support drama.
Getty Images
Concern about finances when a family breaks apart isn't irrational. Data from the recent US census shows that 30.1 percent of children with a parent who lives outside of the household are in poverty, which is around three times the rate of children in households with both parents present.
One-half of all custodial parents had either legal or informal child support agreements, but three in 10 who were supposed to receive child support in 2017 didn't receive any payments.
In this situation, the woman claimed the ex-wife contacted her via text message and asked if she could be paid the child support she usually receives every month: $900.
"She told me she needed the $900 he usually gives her because both she and her new husband are struggling to pay their bills and they 'rely' on that child support to make their rent payment, and they were behind," she wrote.
"I told her I couldn't do it. Because truthfully, I can't. I'm still waiting to get an appointment so I can receive government benefits because with what little money I did have saved up, it's gone now after paying every single bill by myself. To keep a roof over mine and my kids' heads, make sure they're fed, etc. There is and will be no way I can spare almost a grand for my husband's ex-wife."
The refusal to pay was met by anger from the ex-wife, who "blew up" her phone and hurled insults, threatening to keep her child away from her half-siblings.
After gaining attention online, the situation brought in opinions with many slamming the ex-wife and her behavior.
"Don't pay her a DOLLAR. Do not set the precedence that there is ANY kind of financial obligation," wrote one user.
"The nerve of her to even ask you, focus on your own kids," recommended another.
One user similarly advised: "Do not give her anything! Unfortunately, it is not your responsibility to care for her child/your step daughter. She has her husband to figure things out with, you don't have anyone to lean on. Focus on your kids and keeping a roof over their and yours heads."
In response, the mom shared that she is awaiting a meeting with a divorce lawyer to begin official proceedings along with filing for child support for her own children.
Do you have a similar monetary dilemma? Let us know via [email protected]. We can ask experts for advice, and your story could be featured on Newsweek.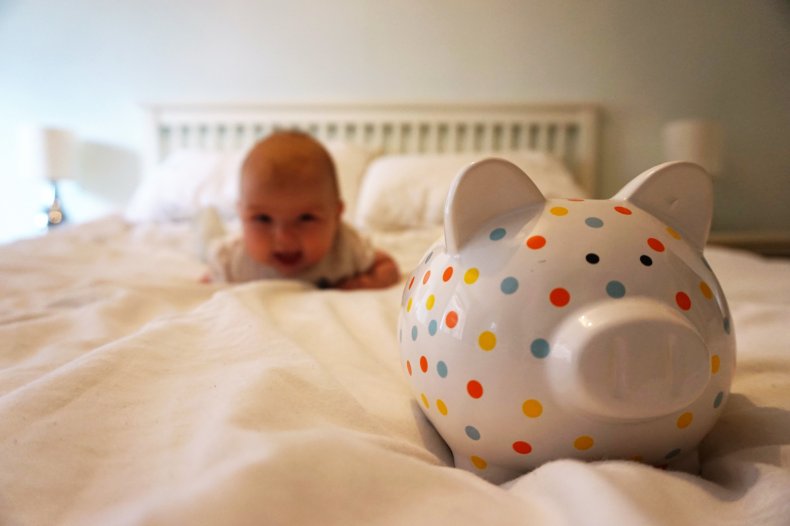 Stock image of a baby crawling towards a piggy bank.
Getty Images